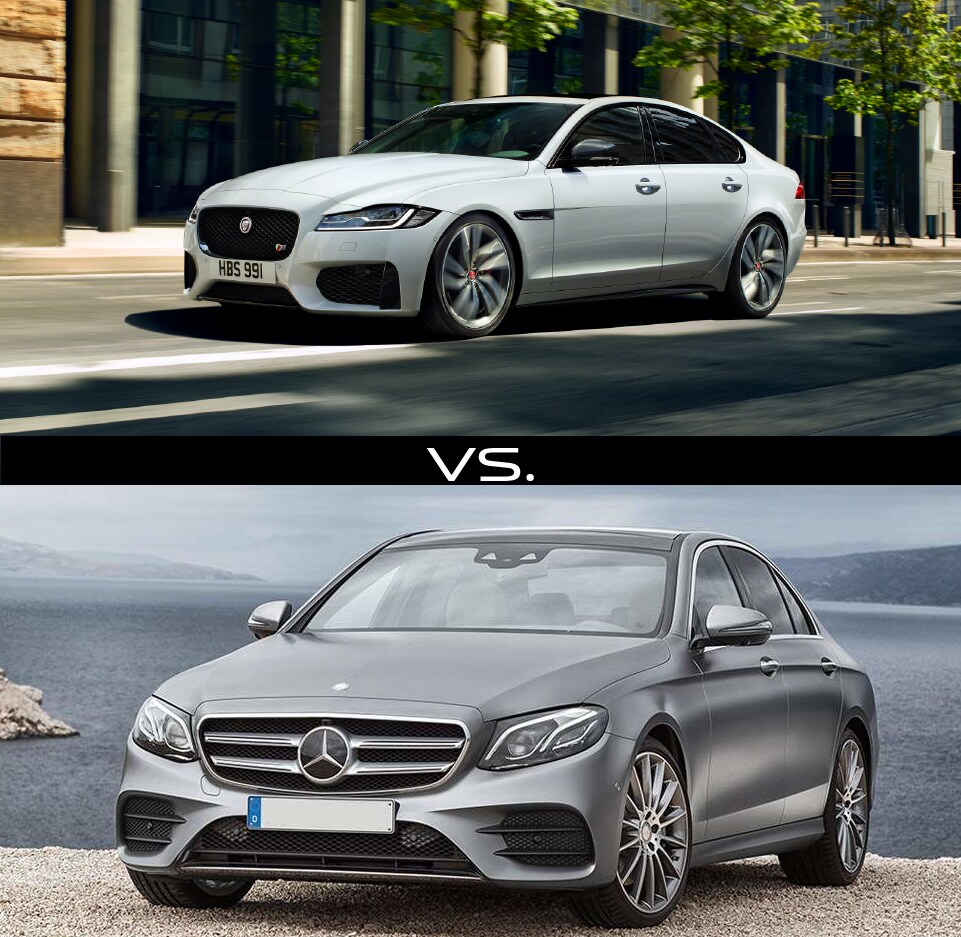 Possessing an unrivaled combination of style and substance, the Jaguar XF delivers an utterly seductive blend of design, dynamics and refinement to create a car that offers both excitement and comfort. All enhanced with the latest technologies that keep you connected and entertained.
When compared with other luxury sedans, such as the Mercedes E-Class sedan, the Jaguar XF offers a more thrilling, dynamic driving experience at a lower cost. View the features below to learn more about how the Jaguar XF rises above its competition.

The XF not only comes at a lower cost of $47,775 compared to the Mercedes E-Class base MSRP of $52,950, but offers many more luxurious features that are not available in the E-Class, like extra cargo space, higher horsepower and fuel economy, less overall weight, headlight washers and many Driver Assistance features designed to make your driving experience smoother, safer and more enjoyable. Explore the practicality and safety features of the XF below to learn more.
 
 

Emergency Braking


The available Emergency Braking system utilizes a forward-facing camera to watch for a potential collision. If one is detected, the vehicle gives an audible forward collision warning. Visual warnings in the Head-Up Display (if fitted) and instrument cluster are also displayed. If a collision is still anticipated and the driver takes no action, the system is designed to then apply the brakes to help reduce the severity of the possible impact.4

 

Advance Parking Aids**

These systems make parking in tight spaces easier than ever. Sensors measure the space and, if suitable, will enable XF to accurately steer itself during both parallel and bay parking maneuvres - the driver only has to control the brakes and accelerator. For parallel spaces, an exit-assist function can help guide XF out again. The reverse traffic detection system, using the blind spot monitoring system's sensors, is able to detect approaching vehicles that may be unseen by the driver, triggering an audible alert and a notification on the Touch-screen.

 
 
 

Traffic Sign Recognition with Intelligent Speed Limiter


Available Traffic Sign Recognition technology uses a forward-facing camera to detect speed limit and no passing road signs, and then displays them to the driver on the instrument panel. This system takes account of temporary speed limits. The Intelligent Speed Limiter, if activated, will use the signage information, alongside map data from the navigation system, to help keep the XF under the appropriate speed limit.4

 

Blind Spot Monitor & Blind Spot Assist


The Blind Spot Monitor (optional) uses radar sensors to cover areas difficult to see when you're driving - either directly or rapidly approaching in your blind spot. If it detects cars overtaking, it warns you via an amber icon in the appropriate door mirror.4 In addition to Blind Spot Monitor, available Blind Spot Assist can help prevent collisions. If your car detects another vehicle in your blind spot when you begin to change lanes, Blind Spot Assist provides a precisely calculated opposing steering torque - guiding the vehicle safely away from the approaching vehicle.