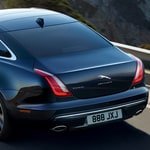 Through the years, Jaguar has manufactured some of the most stunning, iconic automobiles to travel roadways the world over. The Jaguar XJ is no different. The Jaguar XJ is a highly regarded luxury sedan, an accolade received in a large part because of the car's exterior features.
The Jaguar XJ has incomparable bumper treatment. The bumper treatment on the Jaguar XJ includes a bold black mesh grille together with chrome intact air bezels. The Jaguar XJ exterior features include energy-efficient LED headlamps. These headlamps provide optimal illumination but leave a bit less of a carbon footprint when in use.
You can learn all you desire about the Jaguar XJ by visiting the friendly team at Jaguar Greensboro. Indeed, in addition to garnering answers to your questions about the Jaguar XJ features, you can take this stunning vehicle for a test drive.